Medical Negligence in Silver Spring, MD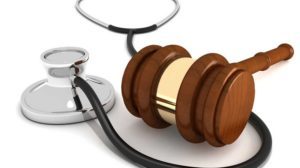 Trust in our law firm to stand up for your rights concerning medical negligence in Silver Spring, MD. The principal of the Law Office of Fidel A. Castro, LLC has more than a decade of experience in representing victims of malpractice. Count on our capable injury attorney to provide you with a skilled defense. Our commitment is to our clients. We work with you to seek justice and the highest possible compensation under the law in your case.
What Is Medical Malpractice?
Medical malpractice is a legal term that refers to an instance when a medical or health care professional deviates from professional standards, resulting in injury to a patient. What we must prove in your case is that the failure to meet the professional standard of care led to your injury.
Your case may involve defective medical devices, surgical errors, or some other medical mistake. In any case, proving there was negligence opens the door for compensation that includes medical expenses, lost wages, pain and suffering, and even punitive damages against the medical professional.
When the failure to meet accepted standards involves a death, this person's relatives may be entitled to compensation that includes medical expenses, funeral expenses, loss of income to the family, and emotional and psychological distress.
Common Examples of Medical Malpractice
When you receive medical care, you expect the professional or the institution providing the service to meet accepted standards of care. However, when you get treatment that results in an injury or illness, you have a right to seek compensation for medical malpractice. The most common types of medical malpractice include the following:
Birth Injuries, including fetal distress, cerebral palsy, brain injury and hypoxia
Misdiagnosis or failure to diagnose breast, colon, or prostate cancer; heart attach stroke
General Negligence
Bacterial Infection
Medication Errors
Surgical Mistakes
Incorrect Anesthetic Dosages, drug overdose
Psychiatric Evaluation Errors
Delayed Treatment
Wrongful Death
This website and the information it contains are for general information only about injury lawyers and claims. It does not constitute an attorney-client relationship. If you believe you are entitled to an insurance settlement or compensation for a personal injury claim, contact the Law Office of Fidel A. Castro, LLC for a free consultation.
Contact us  at (240) 608-6800 today to talk to our attorney about your case involving medical malpractice. We proudly serve clients in Montgomery County, Maryland: Gaithersburg, Rockville, Silver Spring, Wheaton; and Prince George's County: Hyattsville, Langley Park, Takoma Park, Riverdale, Beltsville, as well as Frederick County, Howard County, and Ann Arundel County Maryland.